(Story published in Eastman's Bowhunting Journal, September/October 2013, Issue 79)
Elk Hunting's Easy – My 2012 Utah Bull Elk Story
Elk hunting's easy! Well, that's what I tell my fellow bowhunters anyway. And they usually get a little irritated. But I'm only half-kidding. Compared to spot-and-stalking trophy mule deer, yes, elk hunting is easy.  You can't call mule deer; believe me, I've tried. But with enough practice (about ten years worth) you can call trophy elk. I ate ten tags in a row before I finally arrowed my first bull elk…but it was still kinda easy.
In 2012, after ten years of applying for the Beaver, Utah limited entry tag, I finally drew. It was probably the worst year I could have drawn since I'd just purchased a major fixer-upper house that spring. I had absolutely no time to scout the area and spent the entire summer swinging a hammer instead. But I wasn't about to give up the tag I'd been waiting ten years for. Fortunately, my brother, Brent, had drawn a premium tag for the same unit in 2011. He's crazy about elk–an absolute fiend–spending 30 days non-stop hunting over the entire unit. I spent a week calling for him that year, and the knowledge I gained from his hunt would prove invaluable for my own.
Surprisingly, my other brother, Russell, drew the same tag after only two years. So the plan was to hunt with him for one week in late August, and if we couldn't get the job done, we'd return in September and hunt the last week too.
Early Attempts
Elk hunting's easy! At least that's what I kept telling myself the first couple days as we hiked all over the high-altitude part of the unit without a single response from the elusive bulls. On the third day, Russ and I split up; I went high and he went low. A light rain started that night as I hiked alone into some high-alpine peaks. As soon as I got there, the downpour started. I couldn't pitch my tent fast enough as lightning crashed all around me. To say it was a little unnerving would be an understatement. But hey, elk hunting's easy, right?
The next morning I crawled out of my damp sleeping bag and began hiking and calling. But it was all for naught. There wasn't a fresh sign in the whole area. As I was packing up my tent to leave, however, I heard what sounded like a half-hearted bugle way back down the mountain near a small saddle. I decided to investigate the area on my way out.
Sure enough I found some big, fresh tracks and droppings headed over the saddle and down the mountain. Since I was headed that way anyway, I decided to follow. I made several cow calls along the way, but got no response. Eventually I lost the tracks in some rocky terrain and gave up my futile chase. A couple minutes later, there was an explosion of elk below me as the whole herd blew out of the area. This confirmed my suspicion: the elk were in the area, but not vocal yet.
Close Calls
I met up with Russ a short time later and he we decided to try yet another area. That afternoon I borrowed the lone ATV to go retrieve my knife that I'd left on a tree stump back down the road. I made it about a mile down the roughest, rockiest trail ever when the ATV tire suddenly jolted off a small boulder, causing the machine to veer hard right and climb the steep bank. In about one second the ATV flipped over. Realizing I was about to be crushed underneath, I did a mid-air swan dive onto the rocky opposite bank while the ATV landed upside down behind me. I was bruised from head to toe, but relieved that I wasn't dead. One of my ribs took the worst of it and for the rest of the week I couldn't cough, sneeze, or even sit up in bed without excruciating pain. But, I wasn't leaving the mountain; not without an easy elk anyway.
After a very discouraging fourth day, I left the mountain. The elk rut was happening yet and I wasn't going to waste one more day calling to the trees. On my way down the mountain I blew a truck tire on the rocky road. No big deal; I had a spare tire. Then, half an hour later while driving down the highway, my truck began to shake violently as one of my rear tires shredded into a thousand pieces. Now I was stuck. I spent the rest of the day hiking to cell phone range and then getting towed back to town where I had the pleasure of shelling out nearly $1000 for a new set of tires. I thought elk hunting was supposed to be easy!
Second Attempt
I returned two weeks later with my lovely wife (and elk caller), Esther. Since my first trip, I'd gotten a report from my brother that the lower elevation bulls were in full-rut mode. We drove to Beaver on Sunday evening, and on Monday morning we hiked a mile up the mountain and instantly had bulls bugling all around us. See, elk hunting is easy…sometimes. I probably could have arrowed an elk that morning but my poor caller (Esther) got lost behind me while I followed the herd up the mountain. Later that evening I found her back at camp and we were both a little frustrated. After educating her on the finer points of elk calling, we once again headed up the canyon. Only a quarter mile from camp, we blew a couple cow calls and two bulls came screaming in simultaneously. They met across a small ravine, but didn't seem to care much for each other. They locked antlers and smashed and crashed in the forest for a while, raising quite a ruckus! The biggest and meanest of the two bulls finally emerged and crossed the ravine towards us. Though I didn't get a long look at the bull, I could tell he was a solid six-point and a shooter in my book.
Keeping his distance, he circled around us while bugling and chuckling at the top of his lungs. I quickly positioned myself in a small clearing between the bull and Esther. It was about 7:45 pm as I knelt beneath a giant pine tree in the thick woods. The bull hung up at 80 yards and refused to come closer. I violently flapped my arms at Esther, motioning for her to drop further back…WAY BACK. The bulls in the area were very responsive, but they were smart and hung up well beyond bow range. Esther continued her cow and estrus calls as she dropped way out of sight.
A few minutes later, the big bull couldn't take it anymore. He suddenly appeared from behind a thicket of pines and came stomping right towards me, his huge rack rocking back and forth as he weaved through the dense trees. He was coming in fast and quickly passed a 40-yard tree that I'd ranged. He was facing me so I didn't have a shot. At thirty yards I still didn't have a shot. At 20 yards he suddenly veered broadside. As his head disappeared behind a tree, I swung my bow and settled the pin. A second later, his shoulder appeared and my arrow was off. A PERFECT HIT! The bull smashed away but only made it 50 yards before going down. When Esther caught up to me, I was shaking with excitement and immediately began raving on about the details of the last few intense minutes. After giving the bull a little time, we slowly crept in on him. Although the bull ended up scoring in the lower 300s, it didn't matter to me. He was my biggest bull yet and I did it with a bow. Mission accomplished.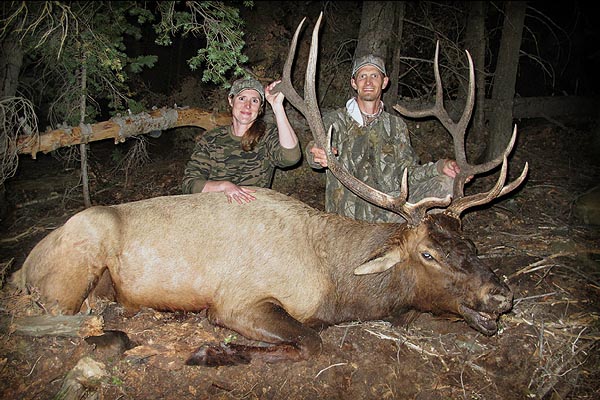 This part of my limited entry elk hunt ended quickly, and sure enough, it was pretty easy! But, there's no way I could have done it without my wife and her sweeeeet elk calling. She made it easy! I suppose the hardest part of the hunt was packing that huge bull off the mountain on our backs. That wasn't easy, but I did it with a big smile on my face.
What a great hunt; what a great wife!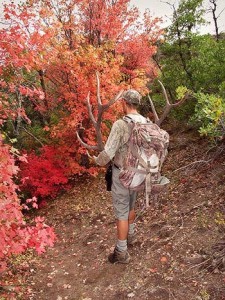 Please follow and like us: