(Published in Eastman's Bowhunting Journal, Issue 81, January/February 2014)
My 40-Inch Dream:  2013 Deer Hunting Story
Twenty yards in front of me, a small 3-point buck with scraggly antlers ran back and forth snorting up a storm. I knew him; he was a sentinel. I knew him because I knew his mentor. Ignoring the flailing 3-point, I peered deep into the dark timber beyond. Sure enough, sixty yards downhill and partially obscured by trees, stood a familiar, square-racked, giant four-point mule deer. He hadn't seen me but was alerted by his sentinel's crazy warning system. Before I could even pull an arrow, he suddenly blasted away taking the squirrely 3-point with him…again. This was my third and last encounter with that big 4-point during the 2011 archery season.
I slowly rose from my knees and dropped my bow to my side. I stared blankly at the woods with a sickening sense of déjà vu. Like most mature bucks in Northern Utah, I knew this buck was essentially unhuntable, just like the infamous 33" double-droptine buck that I somehow managed to harvest in 2010. I spent three long years hunting that droptine buck and I knew for a long time that he too was unhuntable. Yet forces beyond my comprehension put me directly in the droptine's path that last day of the 2010 season. But hunting the same buck for so long was just agonizing, and I wasn't about to do it again. I needed a new area. I needed new blood.
I didn't harvest a deer in 2011, but I did come out of the woods with a valuable new insight: If an area can grow one giant deer—especially in this day and age—it can grow another. I learned this after finding that big 4×4 living in all the same places that the droptine buck lived. Apparently, one giant buck replaces another.
Fast forward one year.
While hunting elk in 2012, I had the misfortune of blowing two tires while driving out of the rough mountains in Southern Utah. As I was being towed back to town, I struggled to start up a conversation with the quiet and sullen after-hours tow truck driver. I asked him if he knew of any good elk areas, and he gave me a couple vague tips. But when I brought up deer hunting (my true passion), his eyes lit up.
As it turned out, KC (the tow truck driver/shop worker) had a passion for deer equal to mine. Soon, we were in a long, rambunctious conversation about big bucks and past triumphs. When I told him about my infamous droptine buck, he responded, "I remember that deer! That was you!?" We talked about big bucks for the next three hours and before I left with four new tires, he informed me of a giant buck he's seen a couple years ago—it was the biggest buck he'd ever seen, estimated forty inches wide. Since KC didn't hunt that particular unit, he was happy to tell me where to go look for it. I took careful notes and then went on my way. I knew the odds of relocating the mythical 40-incher were slim, especially since I'd never set foot in that part of the unit. But still, if an area could grow one giant buck…
And thus began my 40-inch dream. Fast forward one more year.
Gambling on the information I received from KC, I drew my 2013 general archery tag for Southern Utah. In May I tried scouting the "40-inch area," but the mountains proved too wet and inaccessible that early in the year. I planned a second trip in July, but life just got in the way. I didn't return to Southern Utah until the archery opener, and since I still wasn't familiar with the 40-inch area I spent the first week hunting a different area.
I don't like hunting the season opener. I especially don't like the heat or all the competition, or bucks in velvet for that matter. But there I was, hunting the opener with my friend Scott. As expected, there were quite a few bucks around; we would see close to twenty per day. The problem was that they were all small bucks. For five days we saw dozens of 2- and 3-points, but no shooters. I'd seen this before and there's a name for it: Nursery. Nursery areas are bad for trophy hunters because, although there are lots of deer around, they are all small. By the time a nursery buck matures, he becomes territorial and runs off to find his own mountain to live on.
So, on the last day of the hunt we drove to the purported 40-inch area. This time we found a better route up the mountain. I could tell right away that it wasn't a nursery because, a) there were hardly any deer, and b) the terrain was treacherous to say the least.
The next morning Scott and I scaled some cliffs and entered what appeared to be the right area. We split up and by late afternoon I finally located a bachelor herd of bucks bedded in some open grass. The biggest buck was a tall, 25-inch four-point with deep forks. The next biggest was a trashy 5-point. Since these were the biggest bucks I'd seen all week, I decided to make a stalk. My first attempt was foiled when it started raining. The bucks quickly unbedded and wandered into the trees. I made a second stalk and was almost within bow range when a moo-cow wandered right into the deer and scared them off. I followed their tracks and on my third stalk it got dark before I could get close. My hunt ended right then and there, and the next morning I made the long drive back home.
As bleak as the opener was, it wasn't a complete failure. The highlight of the whole week was an arrowhead I found on opening morning while exploring a remote area. When I stopped to glass the opposite hillside, I laid my bow on the ground and noticed a shiny, black arrowhead lying there. I got goose bumps. I always suspected I was following the same instincts and same paths as ancient hunters, but on this day there was proof lying right next to my bow. It was a magical, serendipitous moment.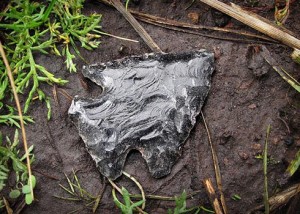 Two weeks later I returned to the 40-inch area with my lovely wife Esther. On Sunday night we hiked into the area with a week's worth of supplies on our backs. By the time we found a flat spot to pitch our tent, we were pouring sweat and exhausted. We spent the evening bathing in a creek rather than hunting.
The next morning we woke before light and headed out. I gave Esther my GPS and sent her to the last known location of the bucks from my previous trip. My plan was to skirt the entire area in hopes of finding even bigger deer…like maybe a 40-incher…
Well, that didn't happen. Instead, I found no bucks whatsoever. The mountain was just too big and too new and my hopes of finding a respectable buck were dwindling. That was okay though; I figured if there weren't any deer, I'd enjoy whatever else nature had to offer. With elk bugling around me, I pulled out my camcorder and spent the long, hot part of the day stalking and videotaping multiple bugling bulls.
While enjoying the elk show, I remembered a conversation I had with Scott towards the end of our last trip. We were both frustrated, and in a sarcastic way I said, "Ya know, there's only one thing I love more than big bucks."
"What's that?" he asked, somewhat disinterested.
"Nature!" I exclaimed. "When I'm in the woods I just love seeing grand vistas, the clear blue skies, and the bright stars at night. I love the clean, crisp air and the ice cold spring water. I enjoy picking up interesting rocks and eating wild berries off the vine. I enjoy reading the deer sign, examining tree rubs, and listening to elk bugling. And in the end, after spending all that time simply enjoying nature, a buck seems to just come along. The bucks are secondary to the process. That's usually how it happens for me, anyway."
I don't think Scott responded.
And so that's what I did. There were no deer, but the mountains kept me entertained and happy. I didn't get back to camp until way after dark. The funny thing was, the closer I got to camp the more fresh deer sign I noticed. In fact, the most concentrated tracks and droppings were located within a few hundred yards of our camp! Could it be that we haphazardly pitched our tent right in the deer's bedroom? Later that night, while eating rehydrated meals, I told Esther about my deery discovery. We decided to wake up early the next morning and hunt close to camp.
We woke early to a heavy rain and promptly went back to bed.
The rain finally quit around 8:30, and by 9:00 we were hiking directly uphill from camp. Sure enough, we found some big, blocky tracks in the fresh mud. Not much farther we heard a commotion in the trees. It sounded like squirrels harvesting pinecones…but there was something else. I turned to Esther and said, "There's more going on than just squirrels!" As we inched forward, I caught sight of a small pine tree waving back and forth thirty yards ahead. I quickly nocked an arrow and tip-toed closer. The tree stopped waiving and I drew. When the buck passed through a clearing, I let down my draw. It was an average three-point; nothing special. Although I had no interest in shooting a "small" buck, Esther was much less complacent. When the buck moved out of sight, Esther nocked an arrow and we crept stealthfully in its direction. We hadn't made it very far, however, when we were suddenly blind-sided by a big four-point buck that wandered leisurely out of the trees to our right. He took one look at us and spun around, taking the three-point and one other buck with him. Luckily, they weren't too spooked and slowed to a walk as they moved up the hillside. I could only make out bits and pieces through the dense trees, but two of the bucks seemed to be carrying heavy headgear.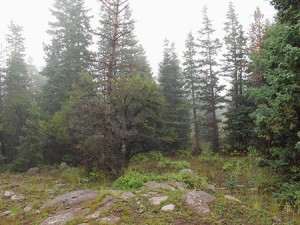 The thermals were beginning to rise so we decided to split up. I would circle above the bucks while she stayed below in case I busted them back down the mountain. For the next hour I circled high above the last sighting of the deer, carefully scanning the trees as I went. I was certain I'd either find them bedded or at least cross their tracks. But they were nowhere to be found. Eventually I began working back downhill towards the last place we saw them. Worst case, I could always track them from there. Another hour passed as I carefully inched forward. The bucks were sure to be bedded, and in my experience there's nothing harder than stalking deer in their beds. Finally, my GPS told me I was within 250 feet of where we left them.
It happened fast. I was skirting around a steep, tree-tangled slope when a deer suddenly stood up behind a large pine tree twenty yards away. I pulled and nocked an arrow in record time which was good because the buck was nervous and started moving downhill quickly. I drew my bow and scanned ahead for a shooting lane. The buck that appeared in the opening was a giant! Instinctively, I let out a n'yoo sound. He paused and whipped his head in my direction. I settled the pin and touched the trigger. My arrow jumped from the string and zipped right through him. Never before had a hunt transpired so quickly!
The huge buck blasted away, but then  paused for a couple seconds to let his four-point buddy catch up. He dropped his head for a second and I could tell he was hit hard. Then, the two bucks bounded down the mountain together.
I think the rain began the very second my arrow left my bow. I looked up and cursed the skies. Experience tells me that rain is bad news for a blood trail. I started tracking early and with some definite urgency. Fortunately, the heavy blood trail, accompanied by large, dug-in tracks, made my job easy. About 200 yards from the shot location, I could see where the buck had paused. There was a deep elk track completely filled with fresh blood. I plunged my finger to the bottom of it, painting my finger red to my second knuckle. I knew the buck wouldn't be far. Still, he'd covered way more ground than I hoped; tough buck! Not wanting to bump him, I carefully scanned ahead, hoping to see him piled up. The last thing I wanted was a long tracking job in the rain.
Scanning even farther ahead, my heart suddenly leapt at the sight of a large, grey body lying on the opposite hillside 100 yards away. He still had his head up, but I could tell he was fading. He was even bigger than I thought. From behind, his tall and sprawling rack looked like a caribou, with trash and stickers going everywhere. The buck had made it across a ravine but collapsed while climbing the steep, opposite slope. Just then, the other buck—his four-point companion—came prancing down the hill towards him. In disbelief, the big bruiser buck rose up on wobbly legs. Again, I started to worry, but only for a second because instead of prancing up the mountain, he took three steps and began running sideways, then flipped over upside-down. When he lay motionless, I sighed with relief and thanked God for such a beautiful gift.
I pulled out my walkie-talkie and hailed Esther. "I just shot a giant buck," I whispered. "Come help me…"
Half an hour later, we cautiously approached the fallen monarch. I've walked up on a few impressive animals before, but this one was out of control: extra mass, extra points, extra eye-guards…extra everything! This was no ordinary buck. This was the next level. This was Superbuck! What caught my attention right away was his mass which he carried all the way to the points. I could barely fit my hands around his bases.
Superbuck may not be the mythical 40-incher that brought me to the mountain, but he's the buck of my dreams. How could you ask for anything more? Emerson once wrote, "We aim above the mark to hit the mark." I have no doubt that this mountain could actually grow a 40-inch deer, but I won't be greedy. I have achieved more with my bow than I ever dreamed of. Superbuck is a buck of a lifetime…again…and I can't wait to see the buck that replaces him. For the record, Superbuck was entered into the books with a net score of 193 2/8 and a gross score of 205 5/8".
From this relatively short hunt, I am reminded of all the same lessons I've learned from a relatively long life: Dream big, set lofty goals, and take risks. Do whatever it takes to get close, then let Nature unfold on its own terms.
Thanks KC; your tip was right on. Thanks almighty God for allowing me two blown tires; from lemons come lemonade, blessings in disguise. Most of all, thanks Esther for being there during all my greatest hunts. I almost always hunt alone, but when I hunt with you, miracles happen.
Please follow and like us: