MY GEAR (updated for 2018)
This is the gear I use and recommend, prioritized by importance. Each item has been field tested and time proven. I've included a short review and a link to more info, and where to buy.
Bow:  Mathews Halon 32 (2017 model)
My current hunting bow is the Mathews Halon 32. It has a 7-inch brace height and is set at 60 pounds. This bow replaced my previous Z7 solocam model. The main difference is the dual cams, which I find drastically increase speed and kinetic energy.
Due to shoulder injuries I am forced to shoot a lower poundage bow, and though the draw cycle of the Halon is not as smooth as the solocam, it is much faster and more accurate.
I am not a pro-staffer for Mathews, but I highly recommend their bows for shear accuracy and reliability. For info on their current lineup of awesome bows, click here to visit Mathew's website.
Other fine bow makers include Hoyt, Bowtech, PSE, Bear, Prime, and others. The brand doesn't really matter anymore. You can expect to pay close to $1000 for a new bow without accessories. But if you're on a budget, you can always find a lightly used bow for half the cost. Over the years, I've purchased many great, used bows  from EBay and local classified ads.
Binoculars:  Bushnell Legend Ultra HD 10×42 (Realtree Camo)
I chose these binoculars because:
The glass is amazingly sharp for the price
Designed to gather lots of light early and late in the day which is when you'll need it most
Waterproof and rugged design
They are relatively inexpensive. I bought my Bushnell Legend Ultra HD 10x 42mm at Amazon.com.
I recommend the higher powered 10x42s as opposed to lesser powered binos (i.e. 8×42). Also, the 42mm objective lens lets in more light in than smaller ones (i.e. 10×25, 10×32). This often eliminates the need to pack around a heavy spotting scope. Just make sure you have steady hands or something to rest them on since 10-power can be shaky. Other models I recommend are the Vortex Diamondback 10×42 and the Nikon Monarch 7 10×42.
Arrows:  Gold Tip Hunter XT 5575Carbon Arrows
Arrows are easy. There are tons of makes and models out there, and in the end they're just a carbon stick. You really don't need anything fancy. I like the Gold Tip XT Hunter 5575 because they're inexpensive and they really are the "toughest arrow" out there. It's not just their slogan. Their unique carbon design makes them so strong you can really beat the heck out of them!
The most important features in selecting an arrow is the proper length, weight (grains-per-inch), spine (stiffness) for your bow setup. All arrow manufacturers have a selection chart that helps you choose the correct arrow for your bow. As an aside, I've found that a slightly over-spined arrow has better penetration since it straightens out quicker in flight.
FIXED Broadheads: Trophy Taker Shuttle T-Lok
I used to use mechanicals, but recently changed to the Trophy Taker Shuttle T for the following reasons:
They are the most accurate fixed blade broadhead. They really do fly "like field points" so long as your bow is tuned correctly.
They have solid (non-vented) blades which reduces wind drag and noise in flight.
The blades thick, and therefore very tough, unlike mechanical blades.
They sport a large 1 3/16″ cutting diameter that produces great wound channels and blood trails. I recently used Shuttle T's on my Idaho bear hunt and was very impressed with their performance.
Note: Shuttle Ts come in 125 grain or 100 grain. I use the heavier 125-grain version to put more weight up front.
MECHANICAL Broadheads:  Rocky Mountain Warhead 100-Grain
Last year I got a new "speed bow." Three days before the deer hunt I was having a difficult time tuning it with fixed blade broadheads. As a last ditch effort, I ran to the sporting goods store and picked up the cheapest mechanical broadheads I could find: the Rocky Mountain Warheads. Sure they were inexpensive, but man did they perform! I took a beautiful 5×5 buck with one shot. The Warhead cut through two ribs and lodged in the offside shoulder without bending a single blade. Not bad for $15 broadheads!
Note: This spring I'll be comparing the Warhead with several other two-blade mechanicals. I have the feeling this high-performance head is a dark horse in the broadhead industry.
Knife: Outdoor Edge SwingBlade
The Outdoor Edge SwingBlade is the best hunting knife I've ever owned.  Not only does it convert to a sharp gut hook, but it holds a razor-sharp edge for a long time. I recently used this knife to cape and quarter an entire bison and didn't have to stop to re-sharpen it. AMAZING! It's available in black or blaze orange and features a rubberized non-slip grip so you won't cut yourself.
Note:  The SwingBlade comes in either BLACK or BLAZE ORANGE. After losing my black one in the woods, I recommend the blaze orange instead.
Laser Rangefinder:  Bushnell Scout DX 1000 ARC
I've had some real junky rangefinders in the past. My old rangefinder failed so miserably last year that I went out and bought this Bushnell Scout DX 1000 ARC. I got a great  deal on it, paying only $200. So far this is rangefinder has been amazing. The best features are the angle compensation, low-light clarity, and the brush mode which allows you to kinda see through brush and trees.
Bow Sight: Montana Gold Ascent (single-pin)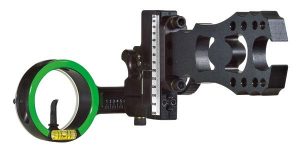 As many of you know, I recently switch over to a one pin sight (aka slider sight). The main reason I switched is because I like having just ONE PIN. I don't like multiple pins blocking the animal's vitals, nor do I like shooting between the pins. My philosophy is simple: one animal, one yardage, and one pin.
Note:  I bought my Montana Black Gold Ascent used from a local classified ad. It's tough as nails and very high-quality.
Arrow Rest:  Trophy Ridge Whisker Biscuit Quick Shot
The Whisker Biscuit is a very simple, yet awesome, containment style rest. The arrow just drops in quietly and shoots right through the bristles. The best things about this rest are:
No moving parts to break
Relatively inexpensive; I buy them on clearance in springtime
Very quiet (again because there's no moving parts.)
In the beginning I was skeptical about the shoot-through design, but after using one for six years, I've found it to be very accurate and reliable.
FYI: The Whisker Biscuit comes in several different models. Depending on the bow, I use either a basic WB Kill Shot or the more advanced WB Sure Shot Pro  with tool-less micro windage and elevation adjustments.
Mechanical Release Aid:  Fletcher .44 Caliper Buckle Release
I've used the Fletcher .44 Caliper for nearly a decade. Originally I bought it because it was inexpensive–albeit well-made. At the time it was also being used by the Primos hunting team.
Now I'm in love with the Fletcher; it's solidly built and never-failing. I really like the loose head  design (no metal post) which can tuck between my wrist and the strap when not in use. As a bonus, the Fletcher is very safe because it doesn't have a clumsy metal post. My brother once had a metal post rip right out of the buckle and tear through his thumb! I don't need that in the woods.
Arrow Quiver:  Mathews 2-Piece Arrowweb FP Series
Whichever bow you own, I highly recommend two-piece arrow quiver. This one is designed to fit tightly against my Mathews bow. The tighter it fits, the less canting, or leaning, will occur during the shot. Canting happens when the weight of the arrows pull the bow to the side during the shot. Tight fitting quivers reduce this effect.
There are several secondary manufacturers that make two-piece quivers for all types of bows. FYI, these quivers are not removable, but they don't need to be. For more info on this quiver, visit the Mathews website.
GPS:   Garmin Oregon 600t
After 17 years I finally replaced my old Garmin GPS. The poor thing was beat to hell, filled to capacity, and the screen was hardly legible. After much research I chose the Garmin Oregon 600t. I love this unit for all the following reasons:
Lightweight, low-profile, and relatively inexpensive.
Easy to navigate touch screen
Built-in topo maps
Accepts onXmaps showing public/private land boundaries
A reliable GPS is absolutely necessary if you're hunting backcountry, off-the-grid areas. Yes, you can hunt without a GPS (to save on weight), but a reliable GPS is a necessary piece of bowhunting gear.
Boots:  Cabela's 8″ Gore-Tex Silent Stalk Sneakers
Is a boot necessary gear? Maybe; I know some hunters who hunt in running shoes. But for me and the terrain I hunt in, boots are absolutely necessary. The Cabela's Silent Stalk Sneaker boots are a light-weight, soft-soled, water-resistant boots with excellent ankle support. They're also relatively inexpensive ($99.00 on sale).
The most important aspect is the super soft sole. This is why they call them 'sneakers'. These boots are very quiet; you can feel every twig and rock under foot. Even after completely wearing out my first pair, the soles still had surprisingly good traction, even in snow.
Speaking of snow, Silent Stalkers are an early season boot with little insulation, but I wear them year-round. Because of my active hunting style, my feet rarely get cold. Just wear two pairs of wool socks and you'll be fine.
Armguard:  Tarantula Three Strap
Boring…let's get through this quick! You need an armguard to keep your jacket sleeve out of your bowstring's path. Any old armguard will work; heck, you could even use duct tape. I use the Tarantula 3-Strap Armguard because, a) it's longer than the two-strap and therefore covers more jacket, and b) I got it cheap (used condition, 3 for $15). I don't use an armguard unless I have a jacket on. For newbie-hunters, an armguard will help avoid string slap. Once you fix your shooting form, you won't need one either.
Bow Sling: Primos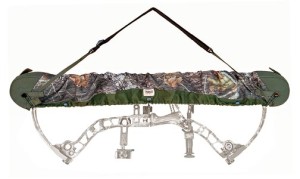 A bow sling would not be considered essential gear, that is until you use one on a long hike. A lot of my hunting doesn't start until I've covered several miles of rugged country. I used to carry my bow in my hand, but when hiking rough country it's safer for you and your bow to keep your hands free. Some backpacks allow you to carry your bow on your back; mine doesn't, so the bow sling is a great accessory. I don't use the sling on all my hunts, but I really appreciate having it on long ones. I got my bow sling used on EBay for $15.00.
Note:  The original Primos Bow Sling has been upgraded to a quieter neoprene version.
Day Pack:  
I've never hunted without a backpack on. That being said, I've also never hunted with a backpack that I paid more than 20 dollars for. That's right, the Fieldline Treeline Day Pack seen here is sold by Amazon and Walmart. I usually get mine on clearance in the post-season. This pack is big enough to hold all my gear and even an extra layer or two. For longer trips and packing meat I'll bring a big frame pack that I bought for five dollars at a thrift store. Ha Ha, it's good to be cheap!
Camera:  Canon Powershot G15
If you want your trophy published in the hunting magazines, or if you just want professional-quality photos, I highly recommend the Powershot G-Series cameras by Canon. I'm a professional photographer, but there's no way I'm carrying a heavy pro-grade camera into the woods. So I have the next best thing–my Canon Powershot G15. As an added bonus, this camera also shoots full HD video,!
Bottom line: This camera shoots pro-quality images in an easy to carry, affordable, point-and-shoot design. When it comes to getting decent field photos, you might get by with an iPhone. But if there's any chance you might get published, you'll need something better.
Note: The G-15 camera has been upgraded many times already. The current model is the Canon G9 X Mark II, a wicked-awesome field camera for less than $500. Fortunately I got my G15 for less than $300 on Ebay.
Those are all my recommendations for essential gear. Remember, gear should always be secondary to the process of hunting. Learn the woods, learn the deer, and work on yourself first. A few thousand years ago mankind was sneaking around naked and armed only with a spear, and he did just fine.
If you have any questions or suggestions for other items, let me know.