Managing Down Time Afield
Don't you just love sitting amongst the pine needles and leaves, amidst the awe-inspiring beauty and peacefulness found only in nature? Don't you just love how time slows way down while bowhunting on a warm September day? Me too.
But sometimes enough is enough!
If you spend any amount of time afield, you're going to encounter downtime. Downtime is normally a good thing. But if you've been hunting the same mountain for multiple days and not much is going on, then downtime can get downright excruciating.
On a hot August day, when the animals seem to have hunkered down at first light and nothing's moving; you're getting low on water and camp is miles away; you're already sitting in the best possible ambush spot and there's nowhere to be for the next 8 hours; well, sometimes hunting gets downright boring! Worse yet is when you get rained in or snowed into camp for hours or days on end.
The problem with excessive downtime (aka boredom) is pretty soon your mind gets restless, and restlessness leads to discouragement, or god-forbid, homesickness. You start worrying about home stuff, or work stuff, or what your wife or girlfriend is up to in your extended absence. You start fantasizing about hot showers and sleeping in and mowing the jungle-lawn you've abandoned for so long.
This "mind creep" is not good. Mind creep leads to discouragement, and discouragement always threatens your success, or in the very least, your commitment level. When you get discouraged, it's easy to fabricate any excuse to leave the mountain early. So a good hunter must learn to manage boredom, a skill sometimes referred to as "mental toughness."
Avoiding Boredom
In order to while away hours and hours of downtime afield, I've developed multiple ways to stay entertained. Here are some examples the might help you as well:
Video Games:
I hate video games; I mean, who has time for them, right?! But I love poker, so I bought a little video-poker machine that I pack with me almost everywhere I go. Fortunately it's very lightweight and fun as heck. I remember the first year I had it, it was such a blast that I didn't even notice the little buck that walked right up on me. Since then I've been a little more cautious about becoming sucked in.
Like an ancient Neanderthal, I still have a flip-phone. But I'm aware that most people now carry smartphones with them in the woods. And I'm more than certain that these fancy-phones have an infinite capacity for entertainment value which will help get you through some pretty slow times afield.
Read a book:
Long before video games, many-a-hunters carried books into the field, and some still do. Nothing can kill time (or put you to sleep) like a good book. I always keep a good book or hunting magazine back at camp. Unlike video games, books are quiet, lightweight, and easy to burn in the event of a weather crisis.
Sleep:
Sleeping in the woods is almost critical. If you're a bowhunter, chances are you got up at the most ungodly hour. That's awesome! Success often comes from waking long before first light. But eventually you're gonna crash. This is good; you need to crash! This is how you recharge your hunting batteries. Getting an hour or two of solid rest in the trees does wonders for mental toughness. It's also where you get the energy for that grueling, three-hour stalk later in the day.
Keep a Hunt Journal:
This is no joke. The blog you're reading right now would not be possible without a good, lightweight field journal. I recommend every hunter keeps a hunt journal. You'd be surprised just how often you refer back to it in the future for helpful tips and tidbits about your area.
I actually carry two journals! The linear, pertinent events of the day are kept in one journal, and the other is for nature-induced insights of grandeur. Throughout the monotony of everyday city-life, inspiration is being continuously leached from my soul. But in the woods, God shines forth a veritable fountain of infinite and voluminous inspiration upon my humble carcass! I soak it in and write it down; I can't get enough. I love writing in the woods. I'd go crazy if I didn't.
Practice Ranging Stuff:
In my experience, the biggest bucks seem to suddenly appear in front of me with no manners or warning. There's rarely time to range anything. So a good bowhunter learns to judge distance effectively, and the best way to learn distance is to practice. Whenever my boredom alarm starts ringing, I reach for my rangefinder. Over and over I'll pick out trees (or whatever), guess the range, and then check it with my laser rangefinder. This excessive practice does wonders for your distance-judging abilities. Besides, if you're bored it's probably because you're sitting there watching a game trail or stuck in a tree stand. And since you need to know the range of several landmarks anyway, you might as well make a game of it, right?
Take Field Photos:
If you hunt long enough and hard enough, eventually you're gonna THWACK some monstrous monarch of the woods. The whole world will be sitting on the edge of their seats waiting to read your story in some big-name magazine. The problem is that these magazines require multiple, high-quality field photos documenting your adventure. The more photos you have, the greater chance you have of getting published. Therefore, it's a good idea to make documentary photos throughout your entire trip.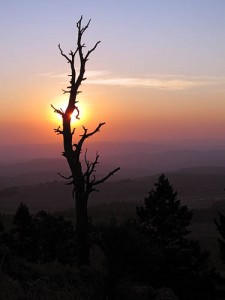 I find that the best times to make photos is during downtime. The possibilities are endless, but here's a few ideas: a) shoot some scenery, b) shoot some closeups of your equipment juxtaposed with the landscape, c) set the camera's timer and shoot yourself glassing, stalking, hiking, camping, sleeping, etc., d) take some photos of wildlife or sunsets or bad weather; there's almost always something to shoot. Even if you don't end up using the myriad of photos you take during the hunt, you'll still have plenty of great memories to bring home and share with family and friends. In the end, these photos will become invaluable to you. Long after you're gone, your legacy will live on, documented in living color.
Conclusion
Being a trophy hunter is serious business, but we must remember that hunting is supposed to be fun too. Hunting is a leisure activity that removes us from our hectic lives and grounds us with the natural universe. Turning downtime into funtime is one of the best ways to keep the spirits up afield. Have fun out there!
Please follow and like us: