Stealth in Hunting: Being Invisible
In hunting, it's not enough to be stealthy; you must be INVISIBLE!
These words echoed in my head last year while bowhunting. It occurred to me that being stealthy–or super-sneaky–isn't enough. You must move through the woods in a way that you are completely undetectable. But what does it mean to be invisible?
Being invisible requires 100% control over your presence in the woods. This is especially critical when hunting giant muley bucks (aka super-bucks or mega-bucks). Big bucks are infinitely smarter than little bucks, not allowing even the slightest hunter pressure. Heck, half the time these bucks explode out of the woods and THEY don't even know why! Seriously, if you've spent any amount of time hunting monster bucks, you know what I'm talking about. Last year I had a 180-class get up and leave the area simply because a squirrel fired up ahead of him.
I've divided my invisibility management techniques into three categories: scent, sight, and sound:
Scent Control
Scent is always number one. Many hunters don't realize just how sensitive the giant snout of a deer is. More deer, by far, bust out ahead of you, not because they've seen you but because they've smelled you. The first rule of invisibility means you hunt with the wind in your face. Otherwise you must adjust your approach or back out completely.
Scent control doesn't just apply to wind direction, but to your person and property. While walking through the brush your clothing/footwear is leaving behind scent molecules on the ground, foliage, and everything else that you touch. Whether you're aware of it or not, deer eventually figure out every place you've been in the woods just by sniffing around. That's why it's so easy to blow out an entire area just by being there, hidden from view or not.
Last year I sat briefly on a rock outcropping to rest and scan the hillside. I moved 100 yards farther and sat again. Pretty soon a little 2×2 buck came along the same route. He stopped at the rock outcropping and sniffed the ground, then immediately jerked his head up and stared in every direction before briskly moving away. I couldn't believe how easily he picked up my scent!
To manage scent–or just to feel better about it–I use scent killer spray every morning before heading out. It's especially important to spray down the entirety of your boots. Still, you should avoid any unnecessary trips through woods or feeding areas where you suspect big bucks will travel, even at night.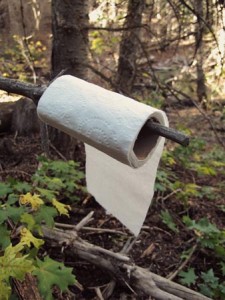 And then there's everyone's favorite subject: urination and defecation! Inevitably you're gonna have to leave a surprise in the woods, and with any luck the urge will hit you right smack in the middle of your "prime" area. So what do you do? Wrap up your presents. What I mean is, get your goods underground no matter what. Whenever possible I look for the biggest rock or boulder I can find and roll it over. In it's void I'll leave my goods, then return the rock to it's original position. (Uh, it's easier than packing a shovel.) Another good strategy is to find a ground squirrel's hole (quite common out West). Funnel your surprises down there, and then cover it up. This stinks for the squirrel, but pre-dug holes are very convenient for the hunter. When hunting prime areas I'll sometimes carry a urination bottle and pack my secrets out with me. Your only other option is to take a side trip to another part of the woods (preferably where your buddies hunt).
Sight
Assuming a buck hasn't picked up your scent, the next greatest threat to invisibility is sight. Don't think that just because you're fully camo-clad that the deer can't see you. Camo or not, deer's eyes are specially designed to pick up the slightest movement. But there's a trade-off: deer can easily spot normal/fast movement, but are almost blind to very slow movement. I tested this in 2013 while stalking a cow elk bedded facing me. There was no other approach according to the wind, so I elected to walk straight at her in super-slow motion. Somehow, over the course of three hours, I got within bow range in the semi-wide open! Unfortunately, it took so long to get close that she finally unbedded and fed away before I could get a shot.
Next, keep to the shadows. If a deer is facing the sun–as they often do when bedded–then their pupils are adjusted to brightness, and shadows become nearly black, or invisible. I got caught last year in the open by a good buck that bedded down facing me at 60 yards. Fortunately I was in the shadows and the buck never knew I was there. A basic understanding of light dynamics is helpful in remaining invisible.
I'm no gear-nut, but with regards to camo patterns I tend towards high-contrast camo because it breaks up my human form more effectively than semi-solid patterns. Whatever camo you choose, be sure to match the type of terrain you'll be hunting.
It's also important keep in the shadows whenever possible. This is especially effective when the deer is in the open and its eyes are adjusted to bright sun. It'll make you almost invisible.
Lastly, whenever possible enter your prime areas before light. Now, deer are mostly nocturnal and see just fine at night. So a wide open approach is a no go. That being said, deer feel much more secure at night and will therefore be more forgiving of the inevitable sights and sounds you do make.
Sound
This is fairly obvious. Assuming you've used the wind for scent control and stayed out of view, human noise is your next obstacle. Human noise is always present simply by existing. Not only is breathing, sneezing, and coughing a constant threat, but you will make some kind of noise with every single footstep and arm movement. To remain audibly invisible I only wear soft- and thin-soled boots. If that's not quiet enough, I'll take my boots off and stalk-in-socks. I also lean towards tight-fitting clothing and soft fabrics. I muffle zippers and buttons with my fingers or gloves. To avoid unnatural "clanks", I tape moleskin over plastic moving parts on my bino harness and backpack, as well as metal bow parts like my quiver and arrow rest.
Use the terrain to your advantage. The quietest substrates are soft dirt, wet ground, logs, and rocks. Whenever possible I hop from rock to rock, or target dirt and logs. One advantage to having ground squirrels in abundance is the soft dirt mounds they create on a daily basis.
Especially important is the use of cover noise. Surprisingly, the woods can be quite noisy at times. Timing your footsteps with natural sounds (or even unnatural sounds) such as wind, planes, flying grasshoppers, squirrels, birds, and other animals, provides plenty of options when you need to get one step closer. The deer themselves can make quite a cacophony. Deer ears are much easier to fool when they are feeding, fighting, or raking a tree. In crunchy snow situations I'll actually use the deer's footsteps to mask my own. As an aside, watch the deer's ears whenever possible and time your movements for when it's ears are swiveled away from you. It's not foolproof, but it helps.
Finally, keep your camp quiet! Avoid music, door slamming, unnecessary driving around, and drunken yelling. And whatever you do, don't make a big, smelly fire! There's no point in announcing your presence at camp and then try ghosting your way through the woods the next day.
Conclusion
In conclusion, when hunting super-bucks it's not enough to be stealthy; the goal is to become invisible. Each time you venture into the woods, make it a goal not to exist. There are far too many variables working against you already. Don't become a variable yourself.
Please follow and like us: