My 2016 Idaho Archery Buck Story
The following is my 2016 Idaho deer story as published in Eastmans' Bowhunting Journal, Issue 101, May/June 2017:
The Monsterbuck
During the 2015 Utah bowhunt I came across a tremendous 200"+ typical mule deer buck which I called Monsterbuck. At our first meeting, he caught me by surprise. Shaking like a newbie-hunter with buck fever, I promptly sailed an arrow over his back at 50 yards. Later in the season I filmed him at 200 yards on an open hillside. He was in an unstalkable location and surrounded by three other deer, so I let him walk, hoping to get a better opportunity the next day. But he had other plans. Like many big bucks, he immediately changed routine and kept me one step behind him until the season ended.
I promised myself not to obsess over this buck; it's just too much pressure to bring into the woods. Apparently obsession is not a decision because that amazing buck crept into my mind every day for an entire year! I carried a picture of Monsterbuck around in my planner and reviewed the 2015 video footage often. Needless to say, I went into this year's bowhunt with high hopes.
About a month before the season opener, I scouted for the Monsterbuck but couldn't turn him up. No sweat, I thought, he's a smart buck and will take a little more time to locate. Opening day was hot and dry, but I was brimming with hope and buzzing with energy. I picked up exactly where I left off last year. Right away I spotted a few forked-horns, but no Monsterbuck. I spent the rest of the day ghosting through thick timber and side-hilling steep slopes without rest. I never covered so much vertical ground in one day. I scoured the ground everywhere I went, but couldn't find a single heavy-footed track. The evening hunt had me staring dejectedly at the same hillsides where the Monsterbuck had lived, but now completely devoid of deer.
And so went the next day, and the next. Eventually I moved camp low and worked upwards. Then north to south, and south to north, but still no Monsterbuck. For two weeks I clambered all over the beautiful and deerless mountains of Northern Utah. Morning, noon, and night I pondered where the Monsterbuck could be hiding, but turned up nothing.
Strangely enough, not only was the Monsterbuck missing, but so were seven other 4×4-or-bigger bucks I'd seen last year. At this point I was ready to take any mature buck, but all I could find were little ones. The best opportunity I had was a little 3-point buck that bounced into an opening at 20 yards and stared at me. I shooed him away and continued my fruitless search for something better.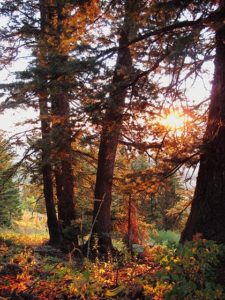 By the third week I concluded that Monsterbuck had either, a) been killed by a hunter, lion, or poacher or b) had moved to another part of the unit, likely due to increased human pressure in the area. All I knew for sure was that the DWR had issued a bunch more tags for my unit, as evidenced by a notable increase in human traffic in the area. And if there's one thing big bucks hate more than anything, it's people pressure.
With less than two weeks left in the season, I was beyond dejected; I was mortified! I love bowhunting than anything, and to see it turn south so quickly was unfathomable. Each night I dreamed I was on the trail of the Monsterbuck, but he always stayed just out of sight. By day, I sat in the woods wondering if I was stuck in a nightmare; that any second I might wake to a more believable reality. Or maybe I was just a lousy hunter. Perhaps I'd just been lucky all these years and had been deluding myself until now. As more days passed, my hunting journal became a dark place in which to vent my frustrations. Something had to change…
Midday, halfway through the third week, while trudging across the empty landscape, it hit me: I had a valid Idaho hunting license left over from my spring bear hunt. I stormed back to camp, threw everything in the truck, and headed to Idaho. Having never actually hunted deer in Idaho, I went home first and collected some maps and some notes I'd gotten from an Idaho Fish & Game officer at the hunting expo.
Off to Idaho
My first morning in Central Idaho was memorable, not because I saw deer, but because I woke up to a terrible head cold. For the next three days I stumbled around strange mountainsides, sore and coughing while my nose drained continuously onto the dry forest floor. The first unit I visited was a bust—too open and too few deer. The next unit was heavily forested, but full of other hunters and very little game. The third unit was a little more promising, but just as I began to scare up some deer, my truck broke down and I barely made it off the mountain.
The Utah deer hunt soon came to an end, and with only four days left in the Idaho season I headed out for one last attempt. In reviewing my first Idaho adventure, I concluded that the biggest threat to success was people! Going in, I had the common misconception that Idaho was a vast wilderness full of game and opportunity. Not the case. It's just like Utah: People everywhere, hunting, hiking, camping, and driving ATVs up and down every dirt road. As long as there's an open road you won't find a buck anywhere near it. This is why my Utah hunt failed. In order to avoid getting "peopled" again, I broke out my map of the unit and found the one point farthest away from any city, road, or trail. My hunt wouldn't begin until I covered two miles of steep mountains early the next morning.
It was a rough night. Instead of drifting into peaceful slumber, I lay awake staring at the tent ceiling and thinking about the colossal disappointment the season had become. My unhealthy obsession with the absentee Monsterbuck had transformed a normally magical hunt into a desperate flail across a dreary landscape. I fell asleep counting the innumerable disappointments of the last several weeks.
Redemption
On September 27th I woke long before the sun and headed up the steep and wooded ridge that separated me from solitude. I trudged like a man possessed, as if fleeing an oppressive regime and longing for new lands. As I approached the ridge top, deer began popping up on the horizon, first some does, then a small band of bucks. I continued on.
The sun finally broke the horizon, splashing light across a blanket of fresh snow splotched with golden aspen leaves. Pines glistened with melting frost as steam rose lazily from dark logs. Birds flitted about. An elk fired up in the canyon below. Deer tracks crisscrossed the forest floor, increasing in number as I went. The woods pulled me forward, upward, effortlessly. I felt like I was coming home after a long hiatus.
Nearer to the top, a group of large buck tracks appeared in the snow. They were fresh and meandering, so I sat on a log and listened. I was ready to take a buck—any old buck. I just wanted to hunt for myself, and for food, with no pressure to succeed, no worries about inches and scores.
A short time later there was a clacking of antlers and scuffle in the forest. I crept closer. Two bucks pushed and shoved each other with occasional flashes of fur and legs visible in the trees. I pulled an arrow and moved closer. Morning thermals began to swirl. Just as I was closing in, a breeze hit me in the back. I froze. Moments later the bucks bounded away, up and over the mountain. Oh well, I was going that direction anyway. It was still a wonderful opportunity.
The sun had been up for some time when I finally crested the ridge and dropped into the thick pines on the shadow side of the mountain. I had officially arrived at the farthest point from the human pile and was brimming with hope. There was really only one good corridor through the tangled briar and pines, and judging by the abundance of game tracks in the area, the deer used this route too.
After traveling a ways, my stomach grumbled. I sat down on a huge deadfall log and snacked on trail mix while pondering these new woods. Eventually I fished out my hunting journal and scribbled a short note about hope and opportunity, the only positive words the book had seen in some time. My contentment was short-lived, however, when a swishing sound erupted in the trees ahead. I whipped around to see antler tips poking slowly through the tangle. In one motion, I snatched up my bow and slid off the backside of the log onto my knees. Smoothly and mechanically I knocked an arrow and clamped my release to the string. I crouched low and stared fixedly ahead like a lion.
Ten yards and closing, the buck's big, blocky, horse-like head appeared with tall, heavy antlers extending upwards into the canopy. Lazily, he angled down towards the game trail I had just been on. When his head disappeared behind a clump of trees, I drew my bow. He stopped. My heart pounded wildly, my eyes protruded from my skull, glaring through the bowstring. Time slowed down.
The buck remained motionless, hidden behind the trees just a few steps away. Did he hear me draw, I wondered? A minute passes. My muscles start to fatigue and my arms begin to shake. Another minute passes. He knows something isn't right. I beg my arms to hold, but the bow finally collapses, yanking my trembling arm forward.
Looking to completely ruin my day, the buck immediately starts walking again. With all my might, I crank the bow back again. His head appears just five yards away, then his shoulder. My eyes, strained and blurry, fight to settle the pin as it dances all over the place. My release triggers and the arrow flies; it flies clean over the buck's back and my heart sinks into my stomach.
The buck bounds into the next opening just seven yards away and looks back. Crouching lower I pull another arrow and load it as quickly and smoothly as I can. He's still there, muscles taut, ready to blast out of my life forever. I can't watch. My eyes squeeze shut as I draw the bow once more. When the string touches my nose, my eyes flash open. He's still there and my second arrow is on the way.
Success!
Final Thoughts
Success has taken on a new meaning for me now. Many nights of delicious venison backstraps have passed while trying to figure out how to tell the story of my tall-antlered Idaho buck. Is it a story of a failed Monsterbuck hunt, or is the miraculous success of an incredibly short hunt in new lands? Perhaps neither. I think it's really a story of self-examination, of finding my true passion again.
As a hunter I've come full circle. Long ago I just wanted a deer—any deer—with my bow. It seemed like such an impossible task back then, and sometimes still does. These days are spent tirelessly chasing 200-inch monsters around the hills. But this "trophy hunting" has lost some of its magic. In trying to prove myself, I've gradually reduced my greatest passion down to inches and strategy. My once insatiable love for the woods feels more like work now. Perhaps it's time to hunt for the love of hunting again… We'll see. All I know for sure is that I keep relearning the same lessons I've been learning all along: That success is so much more than just killing a deer. Success really lies in the journey. Success comes from pushing yourself to your physical and spiritual limits, and then letting nature take over from there.
This story, then, is a simple one to tell: One man, one mountain, one morning, and a second chance.
Please follow and like us: