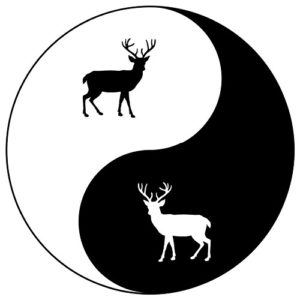 The Pillars of Hunting vs. Pillars of Zen Hunting
A few years ago I was fish-guiding a bright, twenty-something-year-old man named Cliff. He was eager to fish, but just as eager to converse about the wonders of nature. Throughout our impassioned conversation I laid out some personal Zen-like experiences I'd had in nature and how these experiences ultimately led to great success.
Cliff was fascinated with the concept of Zen hunting and asked me what the "pillars" of Zen hunting were exactly. I was a little dumbfounded by his question because, up until then, I'd never thought of Zen hunting in terms of 'pillars.' Long story short, I went home wrote down what I considered the pillars of Zen hunting to be.
Before we get all philosophical about hunting, let's first examine the normal, non-Zen, hunting pillars, and then contrast them with Zen hunting pillars.
Note: The following isn't an official list of hunting pillars, but rather a compilation of both personal experience and knowledge gleaned from experts in the hunting field.
Traditional Hunting Pillars of Success
The right equipment
Good physical conditioning
Locating/scouting
Stalking close
Shooting accurately
Zen Hunting Pillars of Success
Aloneness (quietness)
Patience
Letting Go
Openness (humility)
Oneness
(There you go Cliff! The pillars are finally written in stone.)
Hunting Pillars Compared
When we compare the pillars of Zen hunting with the pillars of conventional hunting, you can see they are very different; actually I don't see any similarities at all. That's because each list is a completely different approach to hunting. The items in the first list are mostly tangible and readily available, while the Zen items are more of a mindset approach to hunting. As we analyze the Zen pillars, you'll see that each is really a step—one leading to the next—and completed in consecutive order. In other words it's a path.
Obviously you can't practice Zen hunting without including some normal hunting pillars, like stalking and shooting. On the other hand, you can practice regular hunting without using any Zen pillars at all—heck, most hunters already do. Either they don't know what Zen hunting is, or they're already applying some Zen to their hunting style and just don't know it.
The concept of Zen hunting (or Zen-anything) is mostly foreign to Westerners because we tend to be results-oriented and gear-minded. We look at nature as a commodity—something to be tamed or dominated. Moreover, today's society has a decreasing attention span, the byproduct of this hyper-information age and its constant distractions. We get bored easily and lose our focus. All of this leads to an impatient or aggressive approach to hunting, and more often than not, to failure.
The way we combat this is through Zen hunting. Zen hunting is all about using down time afield to focus the mind and reconnect with our natural hunting instincts. This is best done alone since another person often serves as a distraction.
The Zen Process
The first step is to free the mind of distractions and expectations through the natural mediation that comes from just sitting or walking in the woods. This takes time, so be patient. Letting go of expectations is the hardest part because human nature expects instant results. As hunters we expect to kill something. We have a goal in mind and are dead set on reaching it. In Zen hunting, our eyes are open to the bigger picture.
The simple pleasure of communing with nature is satisfaction enough. Our newfound appreciation for the woods softens our kill drive, and when this happens we connect with the energy of nature and the life force of the planet (hopefully you believe in such things). This is what it means to be "one" with nature, or to achieve "oneness."
Nature lives and breathes at a slow, rhythmic pace. You can see that rhythm in the way things move: clouds, trees, and animals, and hear it in the wind and bird songs. Zen hunting helps tune us in to that rhythm. No longer do we push our ego-driven "kill energy" ahead of us, but instead, we move with nature. In effect Zen hunting acts as a natural camouflage.
Zen hunting also gives us a heightened sense of awareness. We become more attentive to the infinite supply of subtle clues which will eventually guides us towards our quarry. Simply put, we become better hunters by using Zen afield.
That's the whole process; easier said than done, but attainable all the same.
Final Thoughts
The goal of Zen hunting is to become a part of nature rather than apart from it. Since humans are nature in the first place, it only makes sense to reconnect with Nature to meet our needs. That is the goal of Zen hunting, and also the mission of this website: To reconnect modern-day hunters with the timeless rhythms of nature and to guide them towards a more successful and fulfilling hunting experience through Zen hunting principles.
Please follow and like us: