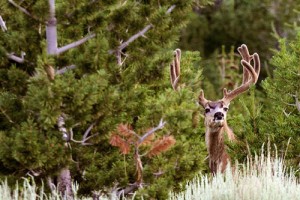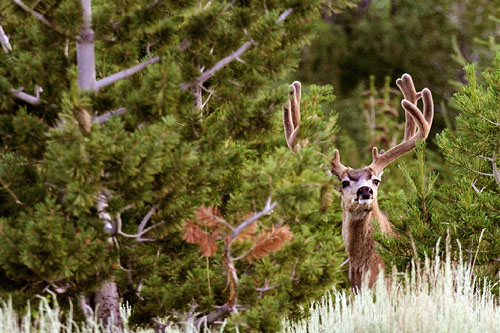 The Ethics of Trophy Hunting
I'm a trophy hunter. On average I spend around 23 days a year beating myself up in the mountains just for a shot at a giant trophy buck. Most years I come home empty-handed or with a "settlement" meat buck. What can I say; I just love giant bucks! I love big bucks primarily because for the great challenge they provide to a seasoned hunter like myself. I also think they're beautiful, cunning, and beyond exciting to chase with a bow.
Anti-hunters hate trophy hunters. They think we target big bucks strictly for their headgear and with little regard for meat or sustenance. This may be true of a misguided few, but for me every ounce of meat is considered sacred, and great pains are taken to pack it off the mountain.
This negative attitude towards trophy hunters isn't just held by ignorant liberals, but by some hunters as well. I was conversing with a hunter last year about the decline in big bucks over the years. Knowing that I was a 'trophy hunter' he said, "Well, if people wouldn't shoot all the big ones, there might still be some around." At first I thought he was kidding–which he wasn't–and then responded, "Uh, isn't that the point? To take the biggest buck you can?" I don't remember the ignoramus' response…
Anyhoo, this got me thinking. While in the woods last season I asked myself, "What are the pros and cons of trophy hunting? Overall, is it more beneficial to target trophies, or more harmful?"
As it turns out, trophy hunting is very beneficial, both to the deer herds AND to non-trophy hunters. Here's the list I came up with:
Trophy hunting does all of the following:
Provides larger, more mature animals which better fills the freezer and feeds the clan.
Removes old, declining, and territorial bucks from the herds which allows greater opportunity for younger bucks to mature. In effect, this allows greater opportunity for non-trophy hunters AND expansion of the deer herd.
Research shows that 80% of bucks 5 years and above will die of old age, NOT harvest. Since these bucks are essentially un-huntable, then trophy hunters don't compete with non-trophy hunters.
Trophy bucks provide a far greater challenge to seasoned hunters who choose to pass up small bucks–often every single day–for an opportunity at a trophy. Since trophy hunters are most often UN-successful, this leaves more animals in the woods which means greater opportunity for other hunters. This also allows younger deer to reach maturity. It's a win-win situation for everyone!
Instead of shooting the first buck he sees, a trophy hunter passes up many bucks. Consequently he spends many more days afield. This equates to a longer season and many more deer encounters, and in my opinion that's the best part of hunting.
Don't be a "baby killer!" Being a trophy hunter means you're not killing yearling or two-year-old bucks. Young bucks haven't gained enough experience to effectively evade predators and hunters yet. It doesn't seem entirely fair to kill these "babies" before they have a fighting chance. Several years ago there was a kill-anything mentality around our elk camp. On the last day of the season I had a young elk calf approach me unsuspectingly at 20 yards. I drew my bow, but then took one look at it's cute, fuzzy face and just couldn't release the arrow. I got some razzing back at camp, since "calves have the most tender meat," but for me it just didn't feel right.
Oh, and let's not forget the greatest benefit of trophy hunting: A big, beautiful rack displayed on the wall in magnificent glory to serve as a lasting reminder of an unforgettable hunt! Nature really is the BEST art.
Conclusion
In conclusion, I can't think of a single disadvantage to trophy hunting; well, other than frequent failure. But oft-found failure is easily overshadowed by the occasional harvest of true monster-buck.
Happy trophy hunting this year!
Please follow and like us: