A New Beginning
2017–the future of hunting. Having hunted deer in Utah from top to bottom for almost 30 years, I still haven't taken more than one trophy buck out of any one unit. Instead I've watched area after area dry up, forcing me to move on. As a kid, 4×4 bucks lined the trees along dirt roads at night. Now it's just trees. Fortunately my passion for chasing mule deer has kept me agile. The best advice I offer to a newbie-hunter is to keep moving. Don't get hung up on any one area, because eventually you'll lose it. Deer and deer habitats are cyclical and dynamic. Big bucks are constantly adapting to us predators, so we must adapt to them.
In my endless quest for the next honey-hole, I think I've found one, hundreds of miles from home. In this new and unsuspecting forest I've come across numerous huntable bucks—not tons—but enough to put a stalk on a mature buck almost every day. The fawn crop is abundant and the herd is healthy. Best of all, there is very light hunter pressure which makes all the difference between huntable and unhuntable deer. These bucks can be patterned, even bumped around a little. Still, you won't find a big buck near any road, so an ATV can't help you, which is great because I don't own one.
The Wall Buck
A few days into the hunt I spotted a giant sway-belly buck across a canyon, his sprawling antlers extending well outside his ears, then skyward. I literally ran down the mountain and up the other side, but before I could close the distance a doe snorted him out of the area. The next evening I caught up with him feeding at 60 yards. He was a real giant, an old warrior, a great wall of fur twice the size of his three- and four-point sentinels. But when he broke the tree line I paused, counting only three antler tines on one side. Not the perfect 4×4 I imagined, so I hesitated. As he turned and fed away, I panicked. The "Wall" (as I came to call him) was surely the biggest deer on the mountain; what was I thinking?! His scrawny sentinels followed faithfully behind. I began crawling towards them but was immediately picked off by a sentinel buck who quickly pushed the wall buck into the trees. That was the last I saw of him.
Before I even got back at camp I was kicking myself. Surely I'd lost my mind! Somehow I'd convinced myself that antlers were the great measure of a deer, the end-all-be-all of trophy bucks. Foolishly I'd built up a wall between me and any buck that wasn't perfect. As I lay in my tent that night I wondered how I could be so stupid, then cursed and squirmed myself to sleep. I vowed never to make that mistake again. Deer hunting is about the experience and the challenge. Above all, it's the sacred meat harvested in the sacred realm of Nature, where ultimately man is measured, not the deer.
Round Two
After seven days afield I drove home, dropped off the wife, resupplied, and moved back to the mountain alone. I made haste to the Wall's domain that evening, but he was still gone.
A stagnant heat wave settled across the land that week and conditions grew increasingly hot and cruel with each passing day. The dry ground was endlessly loud, threatening success everywhere I went. Even barren ground inexplicably crunched. A whole network of micro-sticks and pine needles lay hidden in the crust like miniature mine field. A twenty yard creep into a likely deer haunt turned into a ten minute, cacophonous spectacle—a full-grown, camo-clad man twisting his legs while swinging his bow around for balance like a drunken fool. I wasn't fooling anyone.
September
As August gave way to September, the squirrels grew louder and more cantankerous. The high elevation wind swirled and does snorted at the most inopportune times. Worst of all, the wise bucks seemed to vaporize two hours after first light and didn't reappear until two hours before dark, turning entire days into hot and tired dreariness. While they lay hidden in shadows—chewing their cud and staring into space—I clambered around the mountain, sweating and searching to no avail. My mind churned and theorized, planning strategies that never panned out.
Helplessness crept in early, reminding me that I could always quit and go home, maybe be productive, curate the lonely wife… Reflexively I fought back. The challenge is the reward!, I pleaded. You don't just hunt deer; you hunt experiences. I decided to rest the area and spent the next several days exploring new places in hopes of finding another buck like the Wall. But I didn't. Instead I found a strange transformation occurring within. With each passing day I cared less about deer and more about the process. I paid greater attention to the mountain and other wildlife. I sat longer, took more photos, and wrote often in my field journal. One morning I even left my bow back at camp–on purpose–just to experience the woods differently. I ran into a real toad-of-a-3×3 buck that morning, and was thankful he wasn't bigger! Gradually, nagging desperation yielded to quiet contemplation.
A Different Approach
Labor Day is upon us: ATVs roar below, people yell, kids scream and dogs bark. But the masses want nothing to do with this mountain; I'm confused, but grateful. Two weeks into the hunt and I still haven't encountered another human afield. These are truly my woods. My whole being is awash in a cornucopia of gifts: space, time, beauty, etc. A continual river of fresh air envelopes me and overwhelms the senses. It carries a constant tune of birds, squirrels, and quaking leaves all singing in harmony. A variety of bright red berries—juicy and delicious—grow in abundance across the landscape. They augment my water supply, often saving me from dehydration. In two weeks I've seen more gorgeous sunrises than the rest of the year combined. Time stands still. Nothing has changed since the beginning of time.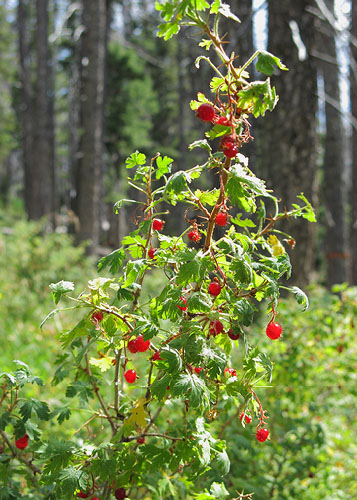 Clarity is probably the wood's greatest gift. All these wild things coexist in a perfect balance, all working within the generous confines of carry capacity. No single plant creates more fruit than is necessary; no animal expends more energy than is needed. So oblivious is modern man to Nature's ways, as lost as the white rocks scattered dumbly around me. Day after day ticks by without speaking to anyone. Like a stern parent, the mountain cuts off my cell signal and any communication with the modern world. Aloneness spurs strange mind chatter, spewing forth observational phrases like "Impenetrable bows of pine keeps me safe from the storm," or "A living, breathing forest saves me from loneliness."
The glint of an ancient arrowhead–serrated and fashioned from pale blue flint–protrudes from the dirt. It stirs the hunter spirit, reminding me that I'm hunting the same ground for the same animals as they did. Here in the future I carry on the tradition of the bow and arrow, preying for nature's sacred meat, just as man always has. It's likely, too, that I struggle in many of the same ways: cursing the crunchy ground, the squirrels, and the swirling winds. I feel tied to the land, relearning what it means to be self-sufficient.
Doing Time
I am convinced that harvesting a trophy buck with a bow is the hardest thing a person can do. Each year I set the same goal: Harvest a 200-inch muley with my bow. Rarely do I meet my goal, but I still believe there's a 200-inch buck living in each of Utah's deer units. Finding him is the great challenge, and arrowing him is even greater. When I was younger I thought that hunting success was 50% skill and 50% luck. But halfway through this season I realize it's actually 33% skill, 33% time, 33% luck, and 1% destiny. In other words, given enough time afield a skillful hunter will eventually come face to face with a trophy, God willing.
Statistically, 80% of bowhunters in Utah fail each year. Most fail because they either don't allow themselves enough time, or they don't understand their prey. But even the veteran hunter with plenty of time on his hands runs into yet another wall: There are simply too many variables outside his control; things like doe snorts, wind changes, inadvertent movement, squirrel barks, grouse busting out of the brush, or any combination of all these. Mature deer simply won't tolerate human intruders, so getting within bow range means everything must be perfect. And since everything is rarely perfect, you better have luck on your side. Even with the entire 28-day season scheduled off work, the best I can do is to put myself between the buck and feed or feed and bed, and then hope for the best. Persistence is the name of the game.
Three weeks into the hunt and big bucks are on the defensive, becoming more secretive, increasingly nocturnal, and less predictable. We underestimate the mighty muley buck. He's smart and keenly adaptable. Physically speaking, he's superior to us in every way: bigger, faster, stronger. His senses are greater too: hearing, smell and vision. He lives in the woods 365 days a year and is permanently tuned into his environment. But he's still an animal driven by hunger, and left alone even the most admirable buck will return to best feed, sometimes even during daylight hours. Outwitting him means identifying these feeding zones and setting up ambush there. But he knows we do this and thusly alters his routine, feeding in different locations each day. Worse yet, as hunter pressure increases—even slightly so—his priority changes from food to survival. He moves by night and wiles away his days on steep slopes in hidden places we'll never know about.
Eighteen days afield now; long, hot, and alone. Days run together. Home life is a distant memory–the mountain is my home. Summer changes to fall right in front of me; aspen leaves yellow as velvet drops from the buck's antlers. So far I've had 13 close encounters with mature bucks, but none were good enough…except for the long-lost Wall buck. Failure becomes the norm, even strangely acceptable. I compare my own failure to other predators. How many stalks does a cougar get before he succeeds? Five, ten, maybe more? Why should I be any different? Each day I climb the mountain, do my best, and then trudge back to camp. My once paradise tent camp is beginning to feel like a prison, but there's nowhere I'd rather be. Put in the time, be patient, and persevere.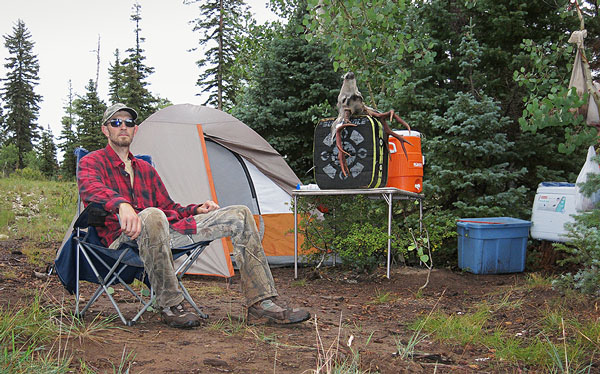 A New Hope
I had a decision to make this evening: hunt uphill or down. Four does appeared and made the decision for me. When the wind swirled they snorted and bounced uphill, so I hunted down. A while later two small bucks—suddenly alerted to my swirling scent—jumped out of the trees and bounded away. A third and much larger deer stayed put, mostly obscured by patchy trees. Was it the Wall buck? A deafening quiet stretched over the land as I tiptoed closer. I slowly raised my binos, desperately trying to identify him. To my surprise, the two smaller bucks came sneaking back in to join him. Perhaps the big buck had grown weary of fleeing his favorite feed, and the small bucks, once separated from their master, felt purposeless. Nonetheless, the air swirled and the three bucks just stared in my direction. I stood like a statue, pinned down with only thirty minutes of light left.
Puffy clouds painted pink and yellow suddenly cast the world in a brilliant amber glow. I lifted my face and basked in the beauty of the moment. Enjoy it, I demanded, this is why you're here. Just another night; just another failed stalk. The stare-down continued, minutes passed, and darkness loomed.
I was jolted from the tranquil scene by a scuffling sound growing louder behind me. A couple does coming to wreck my night, I figured. I slowly rotated my head to see four bucks filtering out of the deep woods and onto a flat twenty yards away. My heart jumped. The first two were small, but the rear ones were real bruisers with heavy racks. Heads bobbed and shifted side to side. In extreme slow motion I simultaneously lowered my binos, raised my bow, and rotated my body 180-degrees all while crouching to a kneeling position. These new bucks spied the other bucks across the way and paused, staring right through me. I pressed my trembling bow tightly against my leg.
Sensing danger, the bucks began shifting nervously to the left. The first three passed behind a clump of trees, and when the fourth lowered his head I loaded an arrow. He was a huge buck with tall, symmetric 5×5 antlers. I hadn't seen him before; somehow he'd been living out a secret life right under my nose. When he passed behind the trees I drew my bow. It sounded like a train wreck—the scrape of the arrow, the rustle of my clothes. All four bucks froze and whipped their heads in my direction. A fortuitous tangle of trees at my rear broke up my outline, but the tip of my arrow danced crazily ahead of my taut bow. I squinted to hide my watering eyes. They're too close. How can they not see me? I begged myself to calm down. A minute passed. The first buck started walking again, then the second and third followed. The biggest buck held tight momentarily before following after the others.
As he came into view I belched out a me'ya sound. He ignored it. As he quartered away I split his shoulder with my 20 and 30 yard pins and hit the release. My shaky arrow was off, streaking through grey light. With the crack of the arrow all four bucks exploded into the woods, shattering the silence with crashing timber and pounding hooves. Several minutes later, in the cloak of darkness, I crept forward. The ground was torn up where he'd stood, and a few yards away was my broken arrow covered with blood. I followed the blood trail for about twenty yards, and then it vanished. I tried following the dug-in tracks, but they intermingled with all the others, heading into the thick brush and up a steep slope. No more blood; my heart sank. A bad hit? I wondered. Over and over I returned to the blood trail and walked in circles.
An hour later I was on my hands and knees with my flashlight, carefully crawling from track to track. What I hadn't noticed earlier was a set of tracks suddenly veering away from the rest. Gradually these tracks were accompanied by pin-head-size blood specks. Several yards later the blood increased and I stood up. I rounded a tree and there he was, big and beautiful, lying peacefully on a bed of pine needles; a perfect hit and a short run. I touched his tall rack, then dropped to my knees and sobbed.
It never gets easier—this process–the mind, body and spirit, all focused, all invested in this primal chess match with God's majestic creature. The game plays out in a familiar way: The buck magically materializes amidst certain failure, the cold steel of my arrow cuts the distance between us, and then cuts his life short. There are rules, too: I only win if he dies; honor him or lose your humanity.
The mountain was shrouded in cool clouds as I hiked in the next morning to retrieve my trophy, a complete reversal of the last eighteen sweltering days. My body glided effortlessly up the quiet trail, falling forward into a surreal familiarity, soft and inviting, like the embrace of a long lost friend.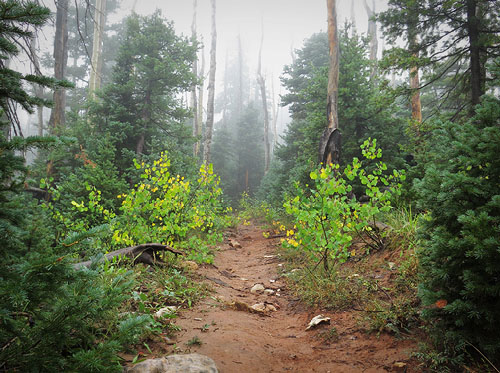 Home Run
Heading home on three hours of sleep, my truck feels unnaturally fast, blasting down the freeway, cutting through a putrid wall of brown smog. Signs and billboards stacked infinitely on my periphery beg for attention. I'm boxed in by cars and trucks cutting in and out of the six-lane road like a swarm of bees, frantic and dangerous. But I hardly notice. I'm still on the mountain and will remain there long after returning home. So much raw beauty cannot be shaken so easily. I'm at peace and completely untouchable.
This is our sacred tradition. This is true freedom and the ticket to perpetual youth. The mountain is alive and breathing, buzzing with energy. It calls to us all year long, just as it has throughout the ages. We return each season with renewed hope and vigor, only to find the woods holding back its secrets. The buck busts out and beats us relentlessly with cunning and agility. In despair we lash out and curse, then trudge on. It's a necessary purification process that separates the weak from the strong. The human experience is broken down to its basic elements and the trash is removed so that we might see ourselves clearly. We see that failure and success are two parts of the same whole, neither good nor bad, and all part of a greater experience. And finally, in the end–if we can endure that long–we see that we're not really hunting deer so much as we're hunting for ourselves.
Try again tomorrow—pound the trail and fight ahead. With enough time, skill, and luck, the human spirit perseveres and the wall crumbles.
Please follow and like us: