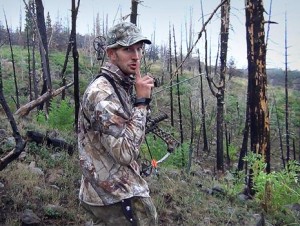 Secrecy in Hunting
A long time ago I read a quote that always stuck with me:
Never make a liar out of a man by asking him where he hunts.  (author unknown)
Do you have a hunting honey hole? Hopefully you do, but if you flap your gums about it, I guarantee you'll lose it.
For twenty-five years I hunted Utah from top to bottom. I started at the top, and now I hunt the bottom. Meanwhile I've lost some amazing areas. Some areas were affected by drought and poaching, but most were lost to kindness. How does this happen???
How we lose our honey holes
Humans–by nature–are kind and sharing creatures. When someone asks us where we hunt, we get excited and start spewing information beginning with, "Promise you won't tell anyone…" Worse yet, we take a "trusted" friend or family member out to our secret area. In either case, that person inevitably extends the same privilege to someone else, and so on, and in a few short years your "secret" area is swarming with hunters and lost forever.
Don't get me wrong here, I'm not advocating total selfishness here. As veteran hunters it's our moral responsibility to help other hunters, especially youths and beginners. I take great pride in steering my fellow hunters towards success. But there's no harm in keeping a little piece of the woods to yourself once in a while.
How to keep your honey hole a secret
A few years ago I missed a shot on a real monster-buck who was living a secret life on a steep mountainside in a nearby unit. When the season ended, dozens of family and friends asked me, a) how my hunt went, b) what I saw, and c) where I planned to hunt next season. My reply was: No, I didn't see anything worth shooting, there's no way I'm going back to that unit again, and no, I haven't decided where to hunt next year.
I knew that the greatest threat to my future success at that buck wasn't cougars, winter kill, or poachers. It was me and my big mouth! So I kept it shut.
What are best ways to keep your area a secret? Here are the three most effective strategies when dealing with prying questions:
Lie:  I hate liars, honestly. But if you lie to me about your secret honey hole, believe me, I'll understand. Tactless as it may be, people are going to ask you where you hunt. It's sad, but sometimes lying is your only option. On the topic of lying, when you finally shoot a real trophy and enter it into the record books (Pope & Young or Boone & Crockett) they're going to record what county you took the animal in. This is yet another area to consider changing the truth. But what if you're just too honest to lie? The next best option is to be a politician, and deflect…
Deflect:  If a friend asks me where I hunt, I'll say Southern Utah (rather than the actual unit). If someone asks whether I saw anything decent, I'll say No, not really. They might not realize that, to me, decent means 200+ inches. Now, if the questions just keep-a-coming, I'll revert back to step 1. But what if lying AND deflection aren't your thing? Consider being honest…at your own peril…
Be Honest: By honest, I mean just say NO. "No, I won't tell you where I hunt because it's a secret and I'm keeping it all to myself." Yeah, that'll go over well with your best friend, or your mom. Honestly, honesty isn't always the best solution. All kidding aside, a close friend shouldn't be asking you where you hunt in the first place. Instead, they should understand why you're keeping it a secret. If not, you might ask yourself whether you'd rather lose your honey hole, or lose your friend. Tough, I know, but just remember, you can always find more friends, but there's only one honey hole!
Other Considerations
Before we wrap it up, there are two other ways you can still jeopardize your honey hole without saying a word:
Photos/Video:  As photography, videography, and Facebook become more popular, it's imperative that you leave recognizable landmarks out of your photos. One example is the Beaver Unit (in Utah) with it's distinct mountain peaks. It looks awesome to have those peaks in the background of your trophy photo, but it'll also give away your location. The best way to avoid background elements in your shot is to zoom in on your subject. By shooting tighter, you can greatly reduce the background size.
GPS Metadata:  As an added feature, many cell phone cameras record your GPS location, and then attach it to the metadata of your image. TURN THIS FEATURE OFF! I stumbled upon this years ago while reading an online story from a local hunter. I was real curious about where the dude was finding such huge deer, so I clicked on a pic and brought it into my photo editing software which displays metadata information. Sure enough, the precise GPS location of his "secret honey hole" was pinpointed ONLINE for the world to see. Note: I believe honey holes are sacred, so I left his area alone. But what about thousands of other desperate hunters?
Conclusion
Here in the far-flung future, where an exponentially exploding population of all-consuming humans are decimating our finite and already-dwindling natural resources (aka game animals), secrecy in hunting can make all the difference between having grass-fed-organic, sacred venison on our tables, or resorting to caustic, mass-produced, over-priced store meat.
Sadly, when it comes to hunting we're living in cutthroat times.  I don't know about you, but that's enough reason to keep my trap shut. It's high time we hunters band together to save the endangered honey hole!
Please follow and like us: