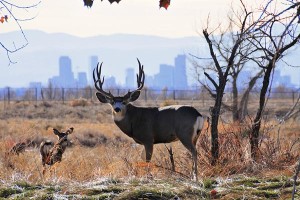 The Future of Hunting
Hopefully by now you've gained some appreciation—or maybe even admiration—for these brilliant survivors. Some biologists have predicted that the mule deer will eventually go extinct. They argue that the mule deer—which split off from the whitetail deer after the last ice age and evolved to fit the rigors of the West—will eventually be dwindled down to minimal numbers due to human encroachment. After that, mule deer will gradually be bred out of existence by the natural reintroduction of the whitetail deer which more readily adapts to human pressure and is already making its way back into the West. After pursuing great mule deer for so long, I personally don't see the mule deer going out without a fight. If they can survive to this point, they'll be around for a lot longer…but a little help from the humans wouldn't hurt!
All existing animals—predators and prey—have learned to survive and adapt to environmental pressures for thousands, or even millions, of years. If a predator doesn't adapt to its smarter prey, then he starves. If the prey doesn't adapt to a more efficient predator, it goes extinct. The biggest problem I foresee is humankind. The difference between man and other predators is that he adapts exponentially. In a few short decades, the hunting industry has exploded with new weaponry and products designed to gain an acute advantage over deer. Fifty years ago bowhunters used strictly traditional gear—recurves and longbows—with a maximum effective range of about thirty yards. Gun hunters had opens sights and relatively short-range rifles. But only a few decades ago, the compound bow was invented, and re-invented to the point that it can shoot effectively out to 100 yards or more. Scoped rifles have expanded their range to well over 1000 yards. With this kind of unnatural firepower, it's amazing we have any deer left at all! Certainly we have a lot less.
What the hunting industry unwittingly and greedily ignores is the trade-off: less animals and/or smarter animals. And now, here we are with both! In twenty-five years I've seen giant bucks go from standing in the open at daybreak to becoming completely nocturnal, and nearly non-existent. What the hunting industry ignores is that the few surviving bucks—the neurotic, brilliant few—will be the only one's living long enough to do all the breeding. And so what you'll have in the future is an entirely new sub-species of mule deer. It looks the same—assuming you ever see one—but it doesn't act the same…at all. The problem that overly-efficient weaponry creates is two-fold. First, there will be fewer deer in the future, which means fewer tags, which means fewer hunters. And second, the existing deer will be completely nocturnal and almost unhuntable. Ironically, this expediting of evolution will create brilliant, impossible ghosts that will inevitably put the hunting industry out of business! From what I've seen, most young, newbie-hunters lose interest after a just couple disappointing seasons, abandoning the woods for more entertaining and/or productive hobbies. The result of losing our deer will finally result in losing our hunting heritage.
So what does the next generation do? There can be only one solution: Learn how to really hunt—how to read sign and stalk close—but more importantly, they must first become deer conservationists (i.e. protect habitat, put restrictions on yearling shooting, discourage technology-driven hunting tactics, etc.) To succeed in the future, hunters will have to continually adapt to this new breed of wily mule deer. This can be especially difficult for the veteran hunter who continually makes the mistake of approaching today's deer with yesterday's tactics. Occasionally he might get lucky—after several failed seasons. And thus begins the downward spiral. He gets lucky and suddenly thinks he's got the neo-buck figured out—maybe it was a new area, a new rifle, a new attitude, or more boot miles. But the next year, the deer have seemingly vanished, gone again, year after year, and he's back to eating tag soup.
It seems like the only hunters who are dragging anything out of the woods these days are either very lucky, or very young. Someone old once said, "Youth is wasted on the young."  This is mostly true, but occasionally you'll meet a young gun who knows how to hunt! He didn't grow up with herds of big ol' 4x4s standing in the open. He grew up with incredibly smart bucks eluding him in the nastiest terrain every season since he began hunting. He's only seen one or two real mature bucks—ever—but keeps after 'em. Unlike his A.D.D. buddies who gave up hunting long ago, he sees the potential of the woods. Every day he dreams about success and understands the great, final reward of outsmarting a giant, majestic mule deer buck with wide-sweeping antlers. Voraciously he studies deer behavior, physical needs, and learns from their evasive tactics. He's learning how to read sign and follow tracks quietly through tangled timber. He's willing to hike many miles from the nearest road. He hunts in cliffs and sub-zero temperatures. He knows that the greatest enemy of success is comfort. He knows that these wily old bucks will continue to change from year to year, and so he too must change how he approaches them. This is the only way to have consistent success—or any success—in this modern hunting age.
Conclusion
As predators, we must adapt to our prey or be left behind. Our deer have changed, adapted, and evolved at a shocking rate. Our deer are brilliant survivors, and thank God for it! Many a trophy hunter has sought big mule deer as a way to be admired; but the true trophy hunter hunts for a trophy out of admiration for it. Conservation is key, folks. Humankind has hunted since the dawn of time, and if we are careful stewards of our forest denizens, then maybe we can pass along this invaluable tradition of hunting to another couple generations.
In reviewing my hunting notes for this article, I wondered if I was just making excuses for my failure this year. But further contemplation suggests that these ingenious evasion tactics are more a reason for failure than an excuse for it…and not just for me but for the majority of hunters out there. As failed hunters, all we can do is study these animals, admire them—maybe even obsess over them—because the more you understand your quarry, the more you'll understand yourself and your role as a predator.
Modern Mule Deer: Brilliant Survivors (Part 1 of 4)
Modern Mule Deer: Brilliant Survivors (Part 2 of 4)
Modern Mule Deer: Brilliant Survivors (Part 3 of 4)
Please follow and like us: