Finding God in Nature: Part 3
In this final section, I'd like to examine one last quote by Emerson:
Undoubtedly we have no questions to ask which are unanswerable. We must trust the perfection of the creation so far, as to believe that whatever curiosity the order of things has awakened in our minds, the order of things can satisfy.
What Emerson seems to suggest is that the answers to our seemingly infinite questions about life and purpose are accessible through the simple examination of nature. Unlike the previous quotes we've examined, this one is an affirmation of what I've already learned from nature.
Especially in recent years, I've observed a definite clarity achieved only through aloneness and meditation in the woods. Early in the hunt the incessant chattering and inner workings of the mind comes to a crescendo while sitting out the long hours of day. Whether out of boredom or lack of entertainment, the mind delves deeper and deeper into the psyche as it searches for meaning and purpose to all things. After a couple days it begins to quiet down. As the fragmented puzzle congeals and the bigger picture begins taking form. It seems infinitely big, blurring at the edges as you pull back further and further to see it. It surprises you because you so rarely see so much at once. Eventually there are no more questions. All of life makes sense.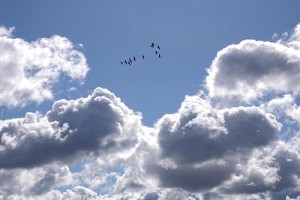 All this transpires while staring blankly at stick or a rock or a leaf or stream. But the answer isn't written under a rock or in the bark of a tree, but rather inside you already. You have the capacity to comprehend the universe because you are part of it. You are a microcosm of the universe, for to comprehend yourself is to comprehend everything. Nature is only the catalyst. The meditation necessary to achieve clarity and enlightenment is facilitated by nature.
Finding God in Nature: Part 1 of 3
Finding God in Nature: Part 2 of 3
Please follow and like us: