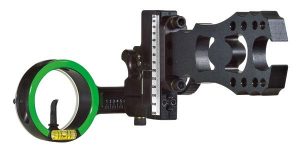 Why I Switched to a Single-Pin Slider Bow Sight
Watching my arrow sail harmlessly over a world-class buck at 50 yards wasn't heartbreaking; it was traumatizing! After replaying the shot over and over for a year, I concluded it was either an error in ranging, or more likely I settled the wrong pin (60-yard?) due to buck fever. Consequently I made some drastic changes to my bow setup last year, starting with my bow sight.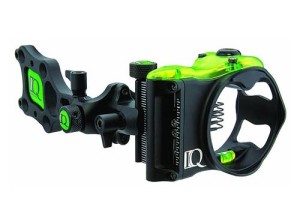 For years I used a standard multi-pin, fiber-optic bow sight. When the single-pin (slider) sight came out, I wrote it off as just another unnecessary gadget which would likely introduce more problems than anything. But after carefully weighing the pros and cons, I decided to try it–and I'll NEVER go back.
Here's why:
Single Pin Pros
1) It's far easier to focus a single pin on a small target than to wade through multiple-pins–or worse yet, shooting between the pins–especially under high stress.
2) Multiple pins–whether 5 or 7–take up way too much space in the sight picture. A long row of pins is not only distracting, but blocks too much of the target or animal's vitals.
3) If you're shooting heavy arrows and/or pulling a light draw weight, the pins on a multi-pin sight will be spaced widely apart. This adversely affects accuracy. A single-pin sight that can be dialed to the exact yardage has proven to be far more accurate in my experience.
Single Pin Cons
1) The most obvious drawback to a single-pin sight is that every time the animal moves, you have to re-adjust the sight. If the animal moves a lot, or is walking towards you, it can be very frustrating. But after actually using it in the field (and arrowing three animals in 2016), I realized just how rare these scenarios occur. In most cases you'll have plenty of time to range the animal and move the slider; it only takes a second.
2) Moving a single-pin sight creates extra movement. Again, this proved to be a nonfactor. When hunting thick timber, I leave my pin set at 20 yards and don't worry about it. If an animal busts out at 25-30 yards, I just have to hold a little higher. When I'm hunting more open terrain I leave the pin at 30 or 40 yards, but it really doesn't matter because animals that far out are usually calm and won't notice the slight movement of my hand. After all, just drawing your bow creates far more movement than scrolling a slider wheel.
Final Note
Just about every archery manufacturer makes a single-pin sight now. My only recommendation is buy a sturdy, all-aluminum model that can stand up to the rigors of hunting.
If you're not yet ready to commit to a single-pin sight, then you should consider a hybrid sight. In a hybrid sight the top few pins are fixed, but the bottom pin is movable. This solves most issues listed above, but again, you still have multiple pins blocking the target. My advice is to keep it simple: one pin, one man, one giant buck.
Please follow and like us: